June 2018
Last weekend the association conducted the Black Belt grading in Bunbury under Alan Burdett (Hanshi 8th dan).
Mandurah had a solid representation for the grading both to be examined and to participate as a maintenance grading.
Grading: Alden Savage, Shay Holdsworth, Joel Weston, Dennis Green and Dale Loxton
Maintenance: Ann Draper, Brooklen Little, Caelan Little, Zakk Elphic, Hunter Reid, Keenan Little.
Joel and Dale passed their gradings with Dennis passing the progressive aspect of his…congratulations to you. Unfortunately Shay and Alden succumbed to illness and were not able to complete all the requirements. They along with Dennis will complete their grading in August. Well done on attempting the grading given your health status and demonstrating your spirit and commitment.
August 2018
Congratulations to Shay Holdsworth and to Dennis Green on their successful grading to Nidan (2nd Dan)
Ann Draper, Shay Holdsworth and Dennis Green
December 2018
December 2nd, PCYC Hall, Hay Park 9am
Mandurah Dojo Black Belts (Current):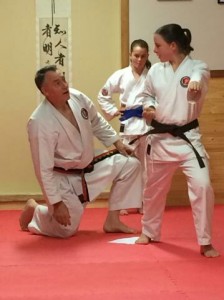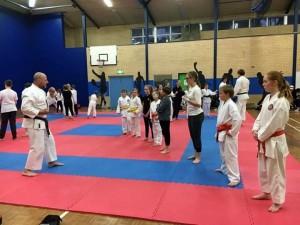 Adam Draper 3rd Dan